Jake aka Tige
Jake does not technically belong to me, but try telling him that.
I acquired Jake by doing something I swore I would never do: fall in love with a "dog" guy. We met through owning dogs and the rest is history. Jake loves my two dogs and the five of us live together now. Jake's dad (my boyfriend Eric) adopted him from a shelter as a young dog. He is now 6 years old, very high energy, but very well trained. He is probably the most athletic dog of his size I have ever met, and runs with me 3 days per week. If he doesn't get a good run 6 days a week, he drives us all nuts, but he will take a rest of about 24 hours before doing so.
Jake looks like a pit bull/mastiff mix, which I believe he is supposed to be (his original owner was found, but never claimed him from the shelter). He has the most gorgeous brindle color, like tiger stripes, hence I call him "Tige".
The first photo is a bit of a forced perspective, but Jake is actually quiet big, probably 26" at the withers and about 30kg (66 pounds), and kept quite lean.
Tiki, me, Fletcher, Jake
I have never met a dog who loves running as much as Jake (except for maybe a bearded collie). If you let him go, in a park or somewhere, he will do several laps of the area for the sheer joy of running and then come back and wait for you to throw his ball, which is what he is doing here: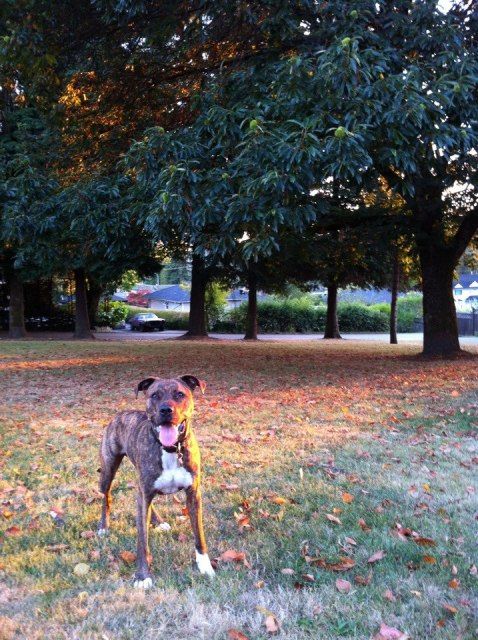 Eric and our boy dogs on the Washington coast
We went all the way down to Cannon Beach in Oregon with them (Eric is 6'5" for perspective)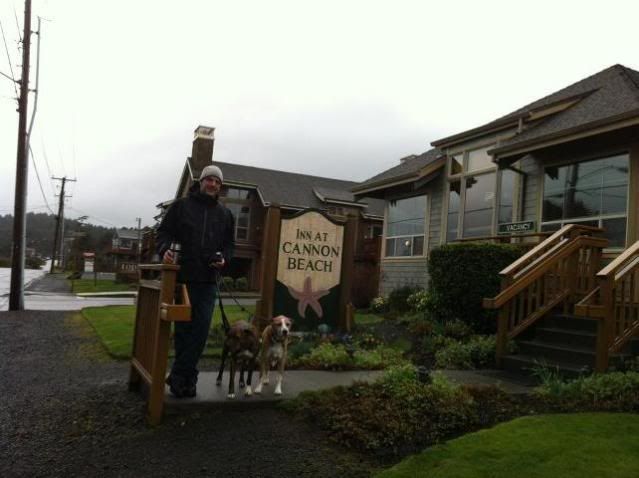 Tiki, Jake, Fletcher
\
Jake and Fletcher on a hike